These releases among others are available to request at wyce.org/request or call (616)742-9923 For a complete list of everything we add visit: grcmc.org/wyce/music/library
Blue Moon Marquee - Bare Knuckles & Brawn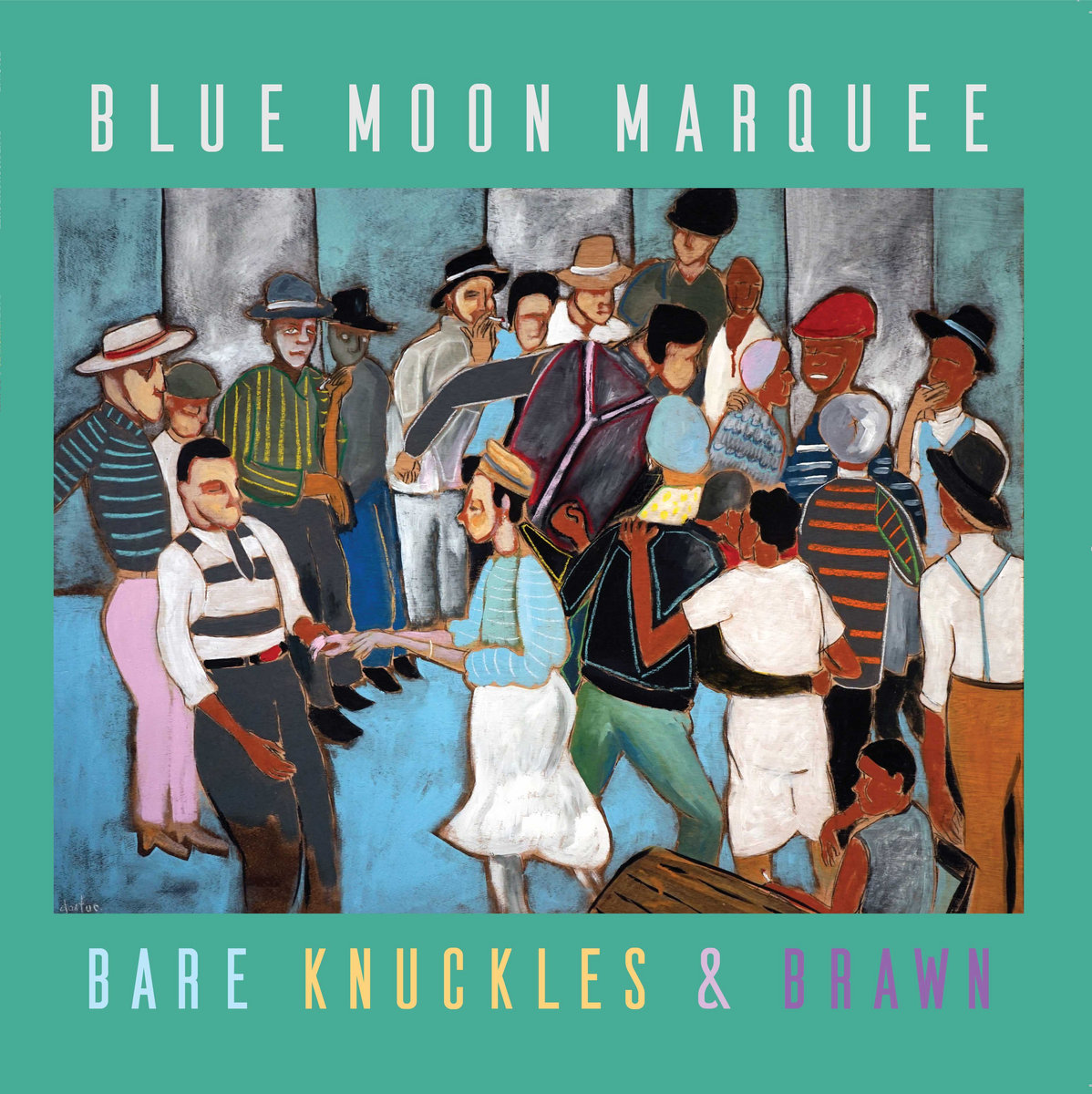 Back with their third full-length album, Blue Moon Marquee showcases a collection of new, original songs that expand the duo's sound into a full band filled with great guests artists. A.W. Cardinal (vocals/guitar) and Jasmine Colette (bass/vocals) are joined by Darcy Phillips (piano/organ), Gerry Cook (sax/clarinet), Jimmy "Hollywood" Badger (drums), Jack Garton (trumpet) and Paul Pigat (guitar). While known for their Gypsy blues style, this album spans a variety of swing genres, ranging from western swing to New Orleans style. A.W. Cardinal says "Think Django Reinhardt/Charlie Christian meets Tom Waits," which is a very apt description for an album that bounces while gruff vocals tell various tales from climate change to feminism to Black Elk, a holy man of the Oglala Lakota tribe. So when you're done dancing to their infectious rhythms, sit back and listen to what these artists have to say!

Highlights: "Big Smoke", "High Noon", "Hard Times Hit Parade'
Preservation Hall Jazz Band – A Tuba To Cuba
When one things of preserving something, it often refers to a scarcity or a need to protect something. The Preservation Hall Jazz Band celebrates the rich cultural music history of New Orleans, with its melting pot of ideas and genres, but it is a history that continues to be written and iterated upon. This latest release features the band focusing on Afro-Cuban music, weaving together distinct stylistic instruments and musical ideas with the iconic New Orleans sound so many Americans are familiar with in a true celebration of both cultures. Artists like Septeto Tipico Oriental, Eme Alfonso, Raices Habaneras, and Alejandro Almanares are featured to bring even more authenticity to the album's Cuban focus. PHJB does such an important service to the worldwide music community by both highlighting the unique fusion of styles to create the New Orleans sound while actively looking to record and perform with other genres all around the world. This album serves as a reminder that we should celebrate other cultures through music, the uniting force that keeps our humanity alive!

Highlights: "Eleggua (ft. Raices Habaneras)", "Keep Your Head Up (ft. Eme Alfonso)", "Descarga del Son (ft. Septeto Tipico Oriental)", "Kreyol"
Various Artists - Red Gold Green & Blue
This album is the debut release from the Trojan Jamaica Record Label, and it is a reimagining of 13 classic blues tunes by several Reggae artists. Both styles have a crossroad in being born out of and highlighting struggle, so the idea is not so crazy to put together when you have the right artists to support it. The roster includes Mykal Rose, Robbie Shakespeare, Freddie McGregor, Phylea Carley, KIDDUS I Big Youth, Sshh Liguz, Andrew Tosh, and Toots & The Maytals (who recently performed at Founders Fest 2019). Blues fans will be able to enjoy this unique take on some classics like Bring It On Home, I Put a Spell On You, and Man of The World, and reggae fans will be able to enjoy a variety of artists they love covering songs they normally wouldn't hear. Grab some friends in both genres and see what they think, this album is a great discussion piece as much as it is a fun album idea!

Highlights: "Man of The World (Toots & The Maytals)", "Come On In My Kitchen (Freddie McGregor)", "Gunslinger (Big Youth)", "I Put A Spell On You (Mykal Rose)"
The Accidentals – LIVE
While I've been on festivals that have included The Accidentals as a performer, I feel like I actually got to have some face-to-face time with them this past April when my group, Earth Radio, performed on a lineup with them and Lipstick Jodi at Bell's Eccentric Cafe. During soundcheck, they were warming up with licks from Tool albums among many other artists and styles, showing their range of music interest and influences beyond the sounds they gravitate towards when writing. Seeing how friendly they were and how awesome they sounded on stage made me appreciate how hard they work to do what they do around the country. This new album, Live, captures the power and emotions behind their performances in these tunes (some never before recorded, some covers), effortlessly executing their songs on various instruments and with rich vocal harmonies. It's no wonder why NPR, among many critics, have praised them as "Some of the most compelling songwriters of our time," a true testament to their work and talent. Having just signed a deal with Sony Masterworks not 2 years ago for their previous album Odyssey, it's clear that The Accidentals still have many more miles to travel, much more music to create, and audiences to connect with on the road.

Highlights: "Bucket Seat", "Sleeve", "Trouble"
Various Artists – Bad Education Vol. 1 Soul Hits of Timmion Records
This first installment of tunes was curated by Daptone Records staffers to highlight the rich body of soulful music coming out of Timmion Records, a studio based in Helsinki, Finland. The album includes artists like Cartlon Jumel Smith (recent release, 1634 Lexington Ave, is slated to be one of the top soul releases of 2019), Pratt & Moody (making waves as a duo in Finland), and Bobby Oroza (known for his 2016 release "This Love," which was a huge hit in the soul scene). From start to finish, it's a compilation of soulful songs that celebrate such an iconic American music export, one that was partially cultivated and popularized in Detroit during the Motown industry era. The feel-good vibes throughout this release keep one foot in the past, paying homage to so many iconic artists while crafting new songs to add to the ever expanding soul catalog. Here's me hoping that more volumes come out down the line from this studio and many more!

Highlights: "This is What Love Looks Like! (Carlton Jumel Smith)", "Lost Lost Lost (Pratt & Moody)", "Paint"
New Music Monday is a collaboration with WYCE Staff and Dutcher Snedeker. These among others are all available for request at wyce.org/request or call (616) 742-9923 For a complete list of everything we add visit: grcmc.org/wyce/music/library