Dutcher Snedeker covers notable 2018 album releases from emerging artists hailing from Kalamazoo, MI
Meghan Stagl and MJ Epperson - Live at E. Patterson
I had the pleasure of meeting and playing in groups with Meghan Stagl and MJ Epperson during my time at Western Michigan University, and this release of theirs from earlier this year demonstrates the kind of people they are. The album is an intimate, live house concert in Kalamazoo that invites the listener in, with those who attended, for a celebration of two creative individuals interacting with each other around classics from the American Songbook. Stagl's warm, endearing vocals and Epperson's complimentary bass playing weave together into their own arrangements of jazz standards like "Mood Indigo," "Almost Like Being in Love," and "Green Dolphin Street," paying homage to several great jazz performers and songwriters like Cole Porter and Duke Ellington. If you're looking for a West Michigan album to add to your holiday playlist while relaxing with family or friends, I encourage you to check out this album! If you'd prefer seeing them in a live setting, rare performances from the duo are coming up on January 2nd at a house concert in Kalamazoo and at The Sovengard in Grand Rapids on January 3rd.

Highlights: "On Green Dolphin Street" , "Night + Day", and "I Love You"
Hannah Truckenbrod - Nobody Else But Me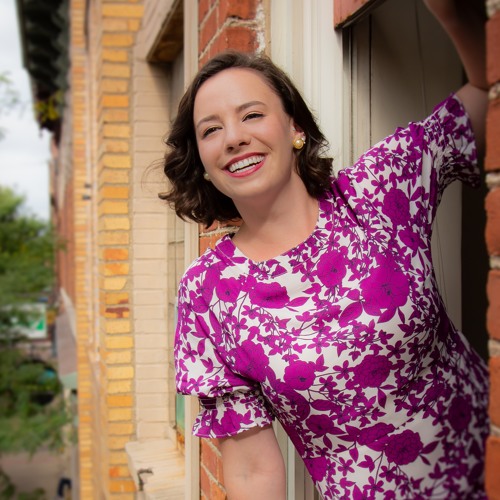 Another fantastic vocalist I met while at Western Michigan University was Hannah Truckenbrod, who's infectious personality draws you into the music she enjoys making with others! Truckenbrod confidently sings on this record, knowing that she's making a declaration to the world: these are the songs she loves, the singers she's drawing from, and some of the many great collaborators of hers in West Michigan! Pulling from the American Songbook, she performs works by some of the genre's best songwriters like George and Ira Gershwin, Cole Porter, and Irving Berlin. Her band includes Grayson Nye on piano, Max Brown on guitar, Jared Demeester on bass, Ben Schmidt-Schwartz on sax, and Ethan Bousma on drums, who are all young jazz talent in and around the West Michigan scene. The collection of swing tunes and ballads offer of a wide display of Truckenbrod's vocal talents, much in the style of Nancy Wilson, Carmen McRae, and Ella Fitzgerald. This album is a clear example of just how many great jazz musicians are coming out of Kalamazoo and why talented individuals like Hannah Truckenbrod are getting picked up by the likes of the world famous Glenn Miller Orchestra!

Highlights: "Nobody Else But Me", "This Is Always", "Moonlight In Vermont"
Jordan Hamilton - Forrenland
On the surface, Jordan Hamilton might seem like your typical cellist. He's involved in symphony concerts, he plays classical cello music repertoire, and he has studied at various collegiate music programs, recently receiving a Masters degree from Western Michigan University. However, looking up his name online yields a variety of results, from playing at Earthworks Harvest Gathering to touring Europe as a solo cellist to performing with the hip hop ensemble Last Gasp Collective. Jordan Hamilton's love for the cellos is not restrained to a particular genre, and his latest release, Forrenland, utilizes the cello in various methods to accompany different sounds and texts. He has guest vocalists speaking Spanish, rhyming verses, and singing lyrics over a bed of hip hop electronics, layered cello sounds, and sampled audio from news and television. These elements combine to showcase a unique, concise narrative that "reflects and uplifts the human spirit" within this 3-track offering from Jordan Hamilton. He recently performed in Kalamazoo with Emily Petersmark from the Crane Wives, but you can catch him with Last Gasp Collective on December 29th at Bell's Eccentric Cafe for their big end of the year show with South Bend duo After Ours.

Highlights: All 3 tracks are solid options, and check out the video for "For You!"
Xavier Bonner - Streams of Consciousness
When he is not joining fellow Last Gasp Collective members on stage, Xavier Bonner is carving out an identity for himself in the Detroit jazz scene. Recently named "New Artist of the Year" by the Detroit Black Music Awards, Bonner has made an impact on the jazz scene with his blend of "traditional world music, hip-hop, and the avant-garde to express the human experience." He has studied and performed jazz on his saxophone from a young age, even getting the chance to tour with the Blue Lake Jazz Ensemble on their annual European tour back in 2013. Drawing strength from the heartbeat of a vibrant city like Detroit, Bonner creates an emotionally driven, sonically diverse album with "Streams of Consciousness" that involves some of Detroit's up-and-coming jazz talent. If you're someone who loves to sink into a tune and immerse yourself in what a group has to offer your ears, check this album out! You can catch him with his trio December 27th at The Sovengard and with Last Gasp Collective December 29th!

Highlights: "Healing Tones"
Jay Jackson and Jessica Ivey - 1302
This album rounds out the many releases put out by Last Gasp Collective in recent months, and this project is spearheaded by Jessica Ivey, complimentary creative and vocalist to last week's release from Nezi, and Jay Jackson, who can be recognized as an instrumentalist, producer, composer and emcee. This album has a strong narrative presence, detailing the struggles of the modern black citizen navigating society, being a young father, violence, and recognizing your roots while knowing where you're headed. "1302" flows effortlessly between soulful singing, rhythmic backsplashes of hip hop grooves, powerful storytelling, television audio samples, and acoustic instrumentals without feeling overwhelming or taking away from the messages spoken in the verses. I have always enjoyed sharing a stage with this band, and to see the creative output from Last Gasp Collective punctuated with each track on this album is inspiring to me as a creative. If this list of albums proves anything, it's that Kalamazoo is a deep well filled to the brim with talented artists!

Highlights: "Day Dreamin", "Fairy Tales", "She Don't"
Dutcher Snedeker is a volunteer columnist and album reviewer for 88.1FM WYCE in Grand Rapids, MI.