These releases among others are available to request at wyce.org/request or call (616)742-9923 For a complete list of everything we add visit: grcmc.org/wyce/music/library
Ashley Daneman - People Are Fragile

Sharing one's self as an artist is scary and intimidating. You can feel the tension in the studio as a creator with every moment of excitement, anxiously climbing the ladder towards seeing a project with deep, personal roots come to bear fruit. With such a varied basket of fruit that I've been exposed to from local artists in the past few months writing this column, nothing has tasted so strongly of nuanced flavors than People Are Fragile by Ashley Daneman. The album has a stellar lineup of musicians from Chicago and West Michigan, including Rob Clearfield and Rufus Ferguson sharing keyboard duties, Andrew Vogt on bass, Mackaya McCraven and Quinlan Kircher sharing drum duties, Matt Gold on guitar/lap steel, and Kevin Bujo Jones on percussion. The album's creation centers around emotions during a time of great loss and dealing with fragility, and Ashley speaks to these feelings through the comparison of the Japanese craft of kintsugi, or repairing a broken object with gold to both make it stronger and highlight the repairs. Ashley has a very expressive voice with such control and emotional connection to the text that you can't help but ebb and flow with each phrase. It's one of those well crafted albums that comes along every so often that speaks to artistry, humanity, and craftsmanship so confidently, yet the subject matter outlines a vulnerability in processing events normally kept behind closed doors like the death of a loved one, heartache and depression. It blends the storytelling and vocal elements of folk music so effortlessly with the colors and textures of modern jazz, dancing around the genres with delight and radiating the joy of creative expression. The fact that Ashley Daneman harnesses these creative talents with her husband, Benje Daneman, when operating the Jazz & Creative Institute in Kalamazoo speaks to how these artists are also breathing life into the West Michigan jazz education scene for aspiring students from as young as 6 years old to adults in their 70s. I highly encourage you to drop any preconceived notions about either folk or jazz music, as you will find Ashley's writing, musicianship, and the talent of her recording artists to be compelling enough to connect with this record!
You can hear her live at the Kalamazoo Piano Company on Tuesday, April 7th.
Highlights: "If I Knew Who I Was", "Sometimes I Feel Like a Motherless Child", "Shake It Down"
The Cat Empire - Stolen Diamonds

Australian chart topping act The Cat Empire is back celebrating 20 years of activity as a group with their latest release, Stolen Diamonds. Born from members of the group Jazz Cat, The Cat Empire quickly found success around their first couple of albums in 2003 and 2005, garnering praise by placing 15 on the ARIA charts, going triple platinum with their self-titled LP, and playing shows on festivals like the Melbourne Festival, the Adelaide Festival of Arts, and WOMAD to name a few. The band has since had a strong career in genre blending music, alternating between extensive touring and studio sessions around tunes that blend elements of ska, Latin jazz, Afrobeat, funk, rocksteady, and hip hop. Even with 7 singles being released over the last year from this album, there is still plenty to enjoy on the album's 13 total tracks that showcase the band's tight sound and broad range of creative inspiration. Two decades in and this band still feels as exciting and fresh as when they first hit the world music scene, and it's no surprise that they are able to confidently tour the globe supporting their music! If you're interested in catching this act live while they are briefly in the states, they will be at the House of Blues in Chicago on March 9th.

Highlights: "Kila", "Oscar Wilde", "Ready Now"
Solange - When I Get Home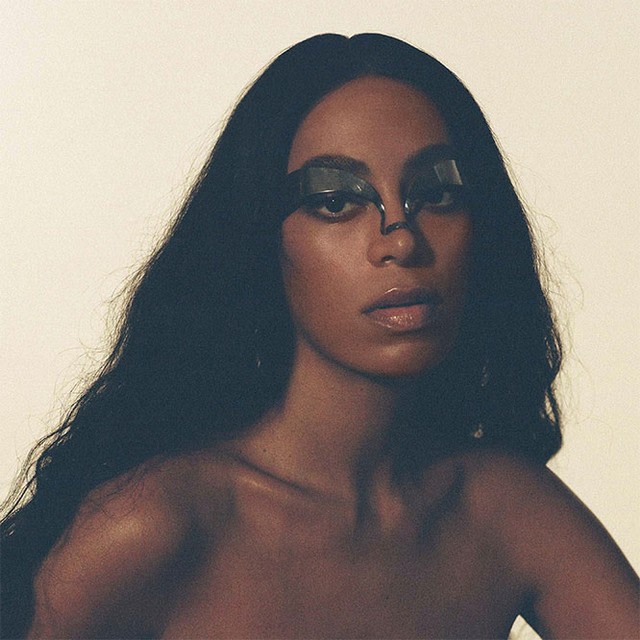 Solange Knowles was someone I didn't acknowledge on my music-listening radar, and that was mainly due to the overwhelming presence of her fierce, powerhouse of a sister Beyonce coloring my assumptions that Solange was just in a similar vein to her sister's artistry. Oddly enough, only through the dancing memes of former NFL player Anthony Adams (@spiceadams on Instagram) did I even get exposed directly to her music, which goes to show the power of both assuming and overlooking one's artistic voice and the avenues of exposure the internet can offer. This means I didn't get into Solange until only recently discovering her 2016 release A Seat at the Table. What grabs me immediately from When I Get Home is the synth-laden beats, the warm harmonies, laid back vibes, and the great mix of vocal harmonies on top. It's music that I want to learn and dissect, from the studio production to the composition. With 19 tracks outlining a 40 minute journey, every nugget of sound has thought and every tune has its own character in the narrative. There is a blend of styles in each track that draw from cosmic jazz as much as it pays homage to Southern Rap. The accompanying 33-minute film highlights the presence of black women narrating throughout the release. Consider my assumptions put in check and color me a new supporter of Solange's 15 years of creating as an artist, along with singing/dancing roles in acts like Destiny's Child. I have also heard from many that her live shows are phenomenal in both their creative scope and production, so I encourage you to see her when you can!
Highlights: "Dreams", "Down With the Clique", "Way to the Show"
Eli Paperboy Reed - 99 Cent Dreams
Eli Reed is a clear example of natural talent paired with hard work and the right mentors and environments to develop his craft. He grew up in Brookline, Massachusetts and busked in Harvard Square to hone his self-taught skills on piano, guitar, harmonica, and as a singer. After finishing high school, he found work and moved to Clarksdale, Mississippi, but when the work fell through he began performing all over the city and earning the nickname "Paperboy," due to the newsboy hat he often wore. At his parent's request, he moved to study at the University of Chicago, where he ended up being mentored by Mitty Collier, a 60s soul singer who was so impressed with Eli that she gave him the Minister of Music position at her church until he moved out east to Boston. He then formed a band called the "True Loves" and began recording and performing over the next several years, gaining a following that landed him opportunities at SXSW and eventually signing with Warner Bros. With 99 Cent Dream, Eli returns to an indie label while continuing to deliver his brand of modern soul that is reminiscent of Mark Ronson's work with Amy Winehouse. Soulful singing, catchy hooks, and a solid list of collaborators makes this release a fun listen and a great addition to anyone's playlist! You can catch him at S.P.A.C.E in Chicago on May 11th!
Highlights: "99 Cent Dreams (ft. Big Daddy Kane)", "News You Can Use", "Coulda Had This"
Gary Clark Jr. - This Land
This guitarist has been compared to blues and rock icons like Stevie Ray Vaughan and Jimi Hendrix, but Gary Clark Jr. has stood out among the many Texas guitarists by combining contemporary soul, rock, blues, and hip-hop into a distinct sound. He has also been scene on the big screen, collaborated with political activist musicians like Tom Morello, and has even self-produced some of his records, showing a wide range of skill sets. This Land is a statement about being a black man living in the current political and social climate of Texas. The gritty guitar playing overtop driving rock/hip hop tracks pair nicely with the commentary on the political landscape, showing that even as a popular artist he can still carve out an avenue on his platform to speak on issues that he is observing and experiencing. Nestled in the the cracks of the album are instances of more traditional blues playing, speaking to his roots as a musician and stripping down arrangements to their essential elements. If you've been interested in his music, now is a great time to hear Gary Clark Jr. in his element! You can catch him on his extensive touring schedule on August 4th at the Meadow Brook Amphitheatre in Rochester Hills.
Highlights: "What About Us", "The Guitar Man", "Gotta Get Into Something"
New Music Monday is a collaboration with WYCE Staff and Dutcher Snedeker. These among others are all available for request at wyce.org/request or call (616) 742-9923 For a complete list of everything we add visit: grcmc.org/wyce/music/library