For the past fifteen years, John Dwyer has released very many albums with his band Oh Sees.
This 2018 album is the band's 21st, featuring a great deal of improvisation and experimentation, continuing with the band's unique sound but still diverging from their previous projects. Oh Sees's 2018 album "Smote Reverser" features an assortment of rock tracks, ranging in tempos and textures. he album features a hard style of rock influenced by 1970s psychedelia and metal, with most tracks being quite fast and containing either breathy or screamed vocals if any. They often include extended instrumental sections featuring noisy, distorted guitars and keyboards. Whether vocal or instrumental, some tracks are very, very long and continually throw non-musical riffs at the listener. These tracks can be thought of as being reminiscent of wild, dangerous and fast-paced scenes in film and TV given their frenzied, dissonant atmospheres. Despite the long and nonmusical nature of many tracks, this album makes for an interesting example of a truly experimental rock sound, proving that even an accomplished musician like John Dwyer can go against all the rules and play with interesting sounds.
- Lizzie Dunn
El Ten Eleven is an American duo consisting of Christian Dunn and Tim Fogerty. For this album, they teamed up with producer Sonny DiPerri, their first time working with an additional producer. All of "Banker's Hill" creates complex, instrumental atmospheres combining rock, dance, folk and other genres. With guitars, bass, drums and occasional keyboards, most tracks feature these instruments playing lines which are then looped, harmonized, echoed, and pitch-shifted as if they were all experiments with an old tape recorder. Many tracks contain two distinct sections, so it is recommended that, after any pause of a few seconds, the listener wait and see if anything comes next. Each of these distinct sections are related in some way, with the second section in a track using the same or similar chords as the first, conveying a continual story with different riffs that are again looped and manipulated. In these sections, more and more loops are created, making the sound grow around the listener; eventually, at the end of the multi-section tracks, the riffs from the first section come back, giving them a full-circle ending. Using a wide variety of effects created by the instruments themselves, plus the growing nature of each track through repetition, harmony and even tempo changes, "Banker's Hill" presents a set of pieces that are similar to each other yet can stand out on their own.
-Lizzie Dunn
Long-time musician Alejandro Escovedo continues to explore new territories on this album, both geographically and musically. Recorded in northern Italy and containing influences from Escovedo's Texas roots, this album shows his versatility. Varied and eclectic in style, each track on this album gives the listener something different to listen to and think about. In a unique combination of blues, rock, folk and jazz among others, each track tells its own story, with or without words. The instrumentation varies on each track, which helps bring so many different styles and stories to life. Most tracks feature lyrics with innovative subjects, including love of homeland, adventure, current events, and mysterious characters, places and situations. A few of the tracks are instrumental, and one even features lyrics alternating between two languages and voices. With each style represented on the album, Escavedo and his collaborators convey to the listener everything from his creativity in the present to his roots, and many more fascinating events in between.
- Lizzie Dunn
Cautious Clay is a New York-based singer, songwriter and producer. Clay's musical style, as shown on this album, fuses many different ones; its highly-produced sound and vocals are reminiscent of pop and hip-hop, complete with the use of occasional sound effects. However, the presence of real instruments like guitar, woodwinds and drums seem to bring about influences from folk and jazz. The album features some unique sounds, including layered and often echoed vocals, modern-sounding beats, and lyrics ranging from simple to highly interpretive and reflective. While each track has its share of differences from others on the album, they all have similarity as well, as they share this one-of-a-kind musical style combination.
- Lizzie Dunn
Michael Nau is a musician from Maryland who had played with various folk-rock projects until 2016. The follow-up to Nau's first solo album, "Michael Nau and the Mighty Thread" has studio-quality production despite being recorded in a somewhat small apartment in Vermont with Nau's friend and collaborator Benny Yurco. This album combines assorted musical styles like indie rock and folk, featuring modern production quality with homage to past decades. The effects used on the guitars, drums and keyboards, as well as Michael Nau's songwriting style and laid-back voice, make most tracks reminiscent of popular music of the 1960s and 1970s. This ranges from the reverb-heavy arrangements on tracks 1 and 3 to more acoustically-driven songs, all featuring somewhat metaphorical lyrics about various situations, experiences and reflections. This album mixes a variety of styles and eras with the modern sound of today's independent music. Regarding the creation of this album, Nau explained that music is like a vehicle and that playing and experimenting with it is like taking a trip where one never knows where they might go or what they might see. The effort put into this album by Nau and Yurco shows the possibilities of where music can take the listener.
- Lizzie Dunn
Still Corners are a band formed in 2009 by Greg Hughes and Tessa Murray in London, releasing music since 2010. Influenced by music from the 1960s, 1980s and now, their sound has evolved since their first releases into the distinct style of their 2018 album. This album, inspired by American culture, blends sounds of indie rock and pop, fusing layered electronic sounds with acoustic instruments and breathy, echo-infused vocals from Murray. Many tracks contain repeated chords, melodies and motifs and are quite long as a result, making them seem like extended remixes to some extent. Some of the tracks contain the above-mentioned sounds enhanced with sound effects; with or without these enhancements, each track creates a distinct atmosphere through its use of somewhat complex instrumental and vocal arrangements. This is not to say that this music is very far from the mainstream either, as most of the elements in each track can be found in or traced to much simpler forms of this music. With the mix of mainstream pop and complex indie textures found on this album, Still Corners provides the listener with soundscapes that combine the catchy with the contemplative.
- Lizzie Dunn
Wild Rivers are a four-member band whose style blends folk with pop. This five-track EP mixes mainstream and indie sounds together, with songs that combine the simplicity of modern music with the homey qualities of folk. Two of its members share vocals, while the songwriting and instrumentation are influenced from pop, country and folk, making the songs catchy without the overproduction of such mainstream genres nowadays. The down-to-earth sound of the instruments and voices gives the listener the idea of a band who loves to share their talents and stories with the world while having fun making music together.
- Lizzie Dunn
"Meditations II" is the second in a three-part series of EP's released by Canadian singer and producer Marie Delorme, also known as Foxtrot. This EP combines sound effects, recorded by Delorme on her trip to Mexico, with layered electronic sounds and vocals. All of the tracks feature a wide variety of repeated electronic sounds, some of which do not seem to be in the key or tempo of the song, making some almost noise-like. Many of the rhythms on all tracks are combinations of multiple looped sounds, which make a rhythm that is usually somewhat irregular but still followable. Only two of the tracks have vocals, which are simply arranged, usually with the melody being sung by several tracks of one voice. Like the repetitive nature of the electronic sounds, the vocals share this same aspect, with some lines being repeated very many times along with the musical sounds. Though this only contains a few tracks, it gives listeners an opportunity to experience an obviously modern yet interesting style of music.
-Lizzie Dunn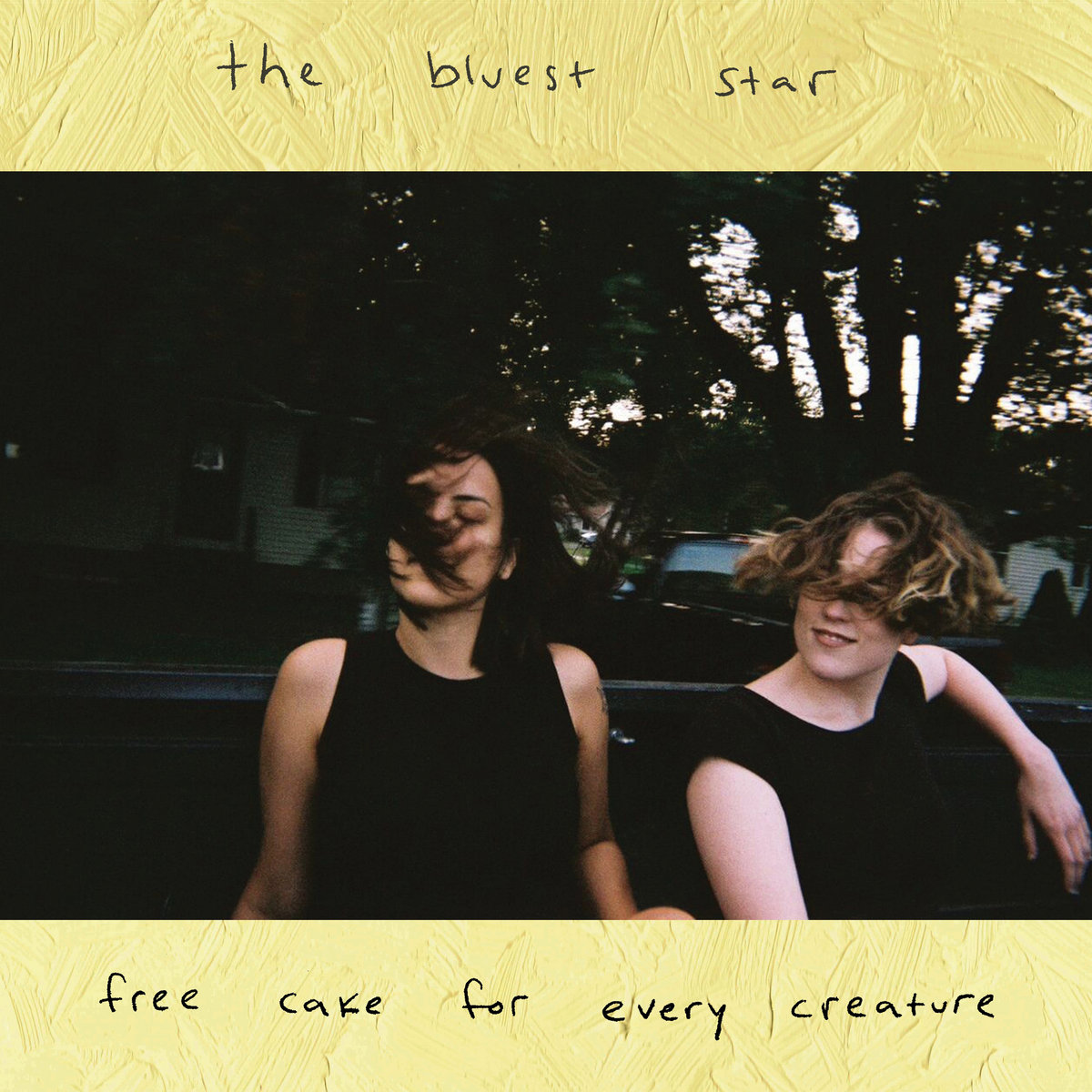 Free Cake for Every Creature is a Philadelphia-based indie rock band comprising singer-songwriter Katie Bennett and friends. First releasing songs mostly online, Bennett continued to produce homemade tracks for wider release on "The Bluest Star". With this, all of the tracks on this album have a very raw sound and contain very little audio effects. Instrumentation is quite limited, featuring guitars, drums and occasional synthesizers, and vocals are sung mostly in a breathy, somewhat amateur manner by Bennett herself. The lyrics on some of the tracks deal with everyday experiences such as going to work, while some of the others deal with more complex things like relationships. As some lyrics are slightly unintelligible, sometimes it is unsure if any controversial words are used.
Together with its raw, seemingly homemade sound, a fair amount of the album features field recordings and simply-recorded instruments and music samples, usually at the beginnings and ends of some tracks. This is exemplified especially in the last track, which features ambient sound effects and low-quality voice recordings together with the spontaneous, acoustic nature of the song itself. Overall, this album explores the everyday world with its simple lyrics, arrangement and recording.
-Lizzie Dunn